Today's episode is brought to you by the letter S and the number 2, as we compare 2 of SteelSeries latest ambidextrous mouses - Kinzu and Xai.

Kinzu being the lower 3200CPI optical mouse, with the Xai possessing a 5001CPI laser sensor.

Packaging.

Both mouses come with just a very basic manual and a sticker, nothing much to look at here.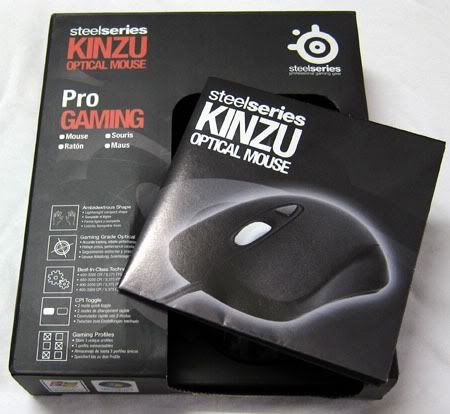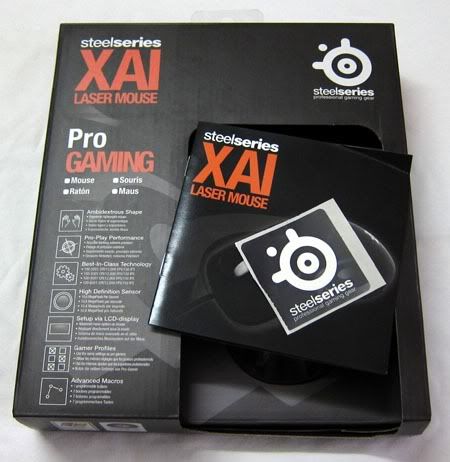 Size.

The Kinzu is stated to be 7% smaller than the Xai. While this may not sound like much, it does make a difference in how each mouse feels.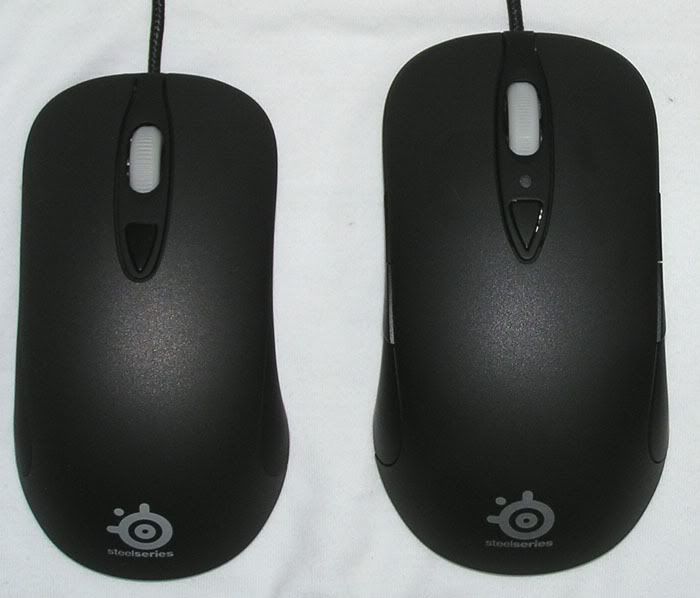 As can be seen, the Kinzu (on the left) has a lower profile.



Basically, both mouses are more suitable for fingertip / claw grip users, with the Xai also somewhat extending to smaller palm grip users.

Construction.

Both feature braided cables, a CPI switcher below the scroll wheel, and nice large mouse feet - but that's about where their similiarities end.
The Xai's shell and sides (with the exception of the side buttons) are rubber coated, whereas the Kinzu is just matt plastic.


Being a claw gripper, I find the side of the Xai does get a little slippery when wet, so I went ahead and placed some SteelSeries grip.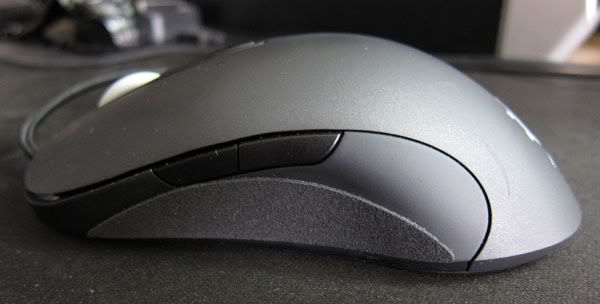 Now where the Xai really veers away from the Kinzu is with its built-in LCD on the bottom, which displays information such as how much longer before a firmware update is over, to actual mouse settings which all can be individually adjusted.

Driver.

The above is the driver interface for the Kinzu, and it obviously does not hide the fact that it is a very basic mouse targetted at the budget conscious gamer.
Three different profiles can obviously be stored on the mouse itself, and they can be either accessed through the driver interface or by pressing the CPI switcher button for at least 2 seconds.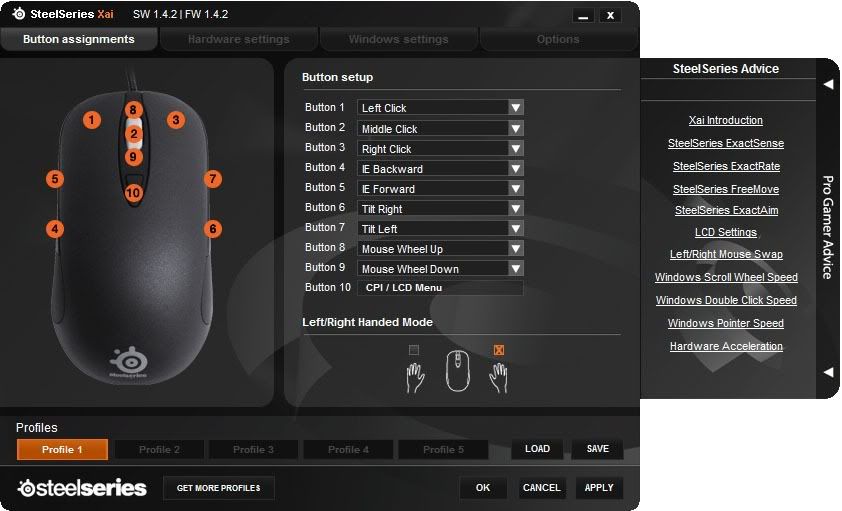 Here we have the driver interface for the Xai, nothing really out of the ordinary for a 7-button mouse.



The next tab, Hardware settings, is where things come to life, with terms that may be alien to some such as ExactSense, ExactAim or FreeMove.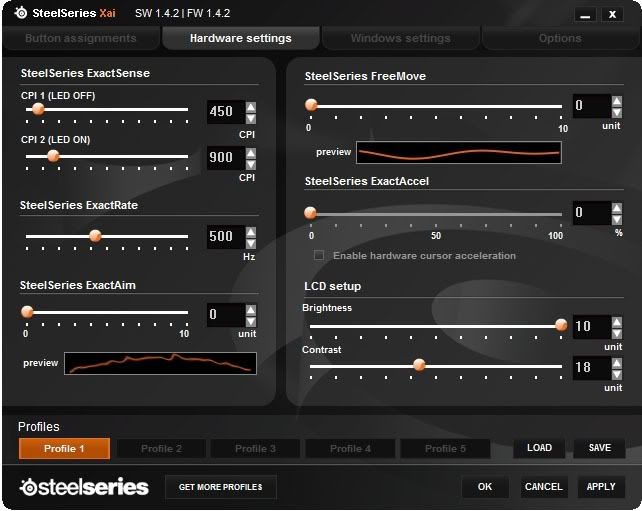 Anyway, just a quick run-down of what some of the terms are.




ExactSense - this should be obvious, with CPI being able to be set with increments of one from a low of 100CPI to 5001CPI.



ExactRate - Polling rate settings from 125hz to 1000hz again in increments of one, SteelSeries recommends to set the polling rate in multiples of your monitor refresh rate so both are in sync.
eg. if your refresh rate is 75hz, set the polling rate at say 750hz.



ExactAim - Jitter correction - 0 = no correction, 10 = full correction. Recommend to start at 0 and if it feels fine, then just leave it as it is.



FreeMove - Reduces prediction (angle snapping and path correction), from a low of 0 to 10 with prediction at full. Again, start at 0 and work your way up to what you feel comfortable with.


The other 2 should be obvious.


ExactAccel - Basically acceleration.


LCD setup - controls the Brightness and Contrast of the built-in LCD.



The Windows settings and Options tab contains nothing really interesting that no one has never seen before.
What is interesting though is the "Get More Profiles" button by the SteelSeries logo on the bottom which leads you to a page where you can install profiles from certain top gamers onto the mouse itself, useful for those who have no idea where to start.

That page of course can be found here - http://www.steelseries.com/int/products/mice/xai_laser/profiles


Here is where the beauty of the Xai comes in, making full use of its built-in LCD.
All 5 settings (ExactSense, ExactRate, ExactAim, FreeMove, ExactAccel) in each individual profile can also be adjusted on the mouse itself - without drivers.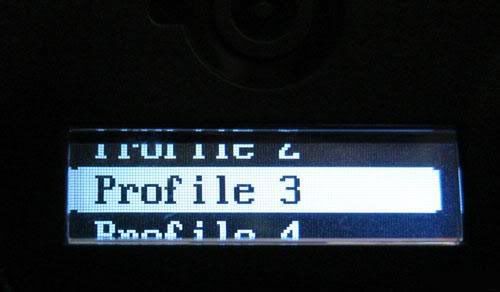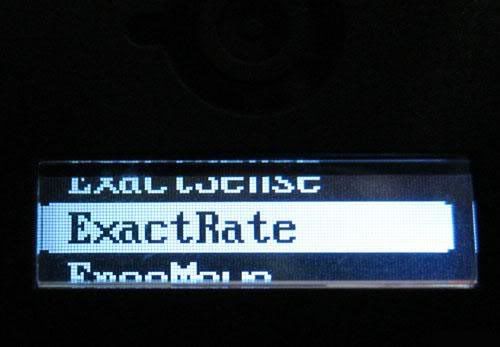 Performance.

After updating both mouses to the latest firmware (Kinzu - v1.0.10. Xai - v1.4.2), they seem to track fine on both a SteelSeries 4HD and a Razer Goliathus.
No real problems with acceleration or sensor lock-ups that plagued the earlier firmware versions of the Kinzu, unless of course you are real anal and have a big stick up in you.
The mousefeet of both though could've been developed with a better glide. Guess would have to wait for replacement teflon feet to be released or to make use of some good quality skates.


The Xai, meanwhile, lives up to its claim of having 1mm (or 1 CD thickness) lift-off distance. Sensor also shows no signs of jitter. Afterall, it does possess one of the more stable laser sensors out in the market - the Avago ADNS-9500.


Anyway, I'm getting lazy to write, so bottom line is that if you can live without fancy glowing LEDs and would like a no-nonsense mouse, then either one of these mouses should definitely be on your shopping list.