Razer debuts its latest ambidextrous mouse - the Abyssus - and its curiously priced at mid-level in between and with features of the Salmosa ( DPI & Polling switches / 3-buttons) - but yet featuring the latest 3500DPI optical sensor as found in the DeathAdder Refresh.
Packaging contains nothing out of the Razer ordinary - Certificate, guides and stickers.
Again there is no CD containing the driver as that should be downloaded from razerzone.com to ensure you have the latest version.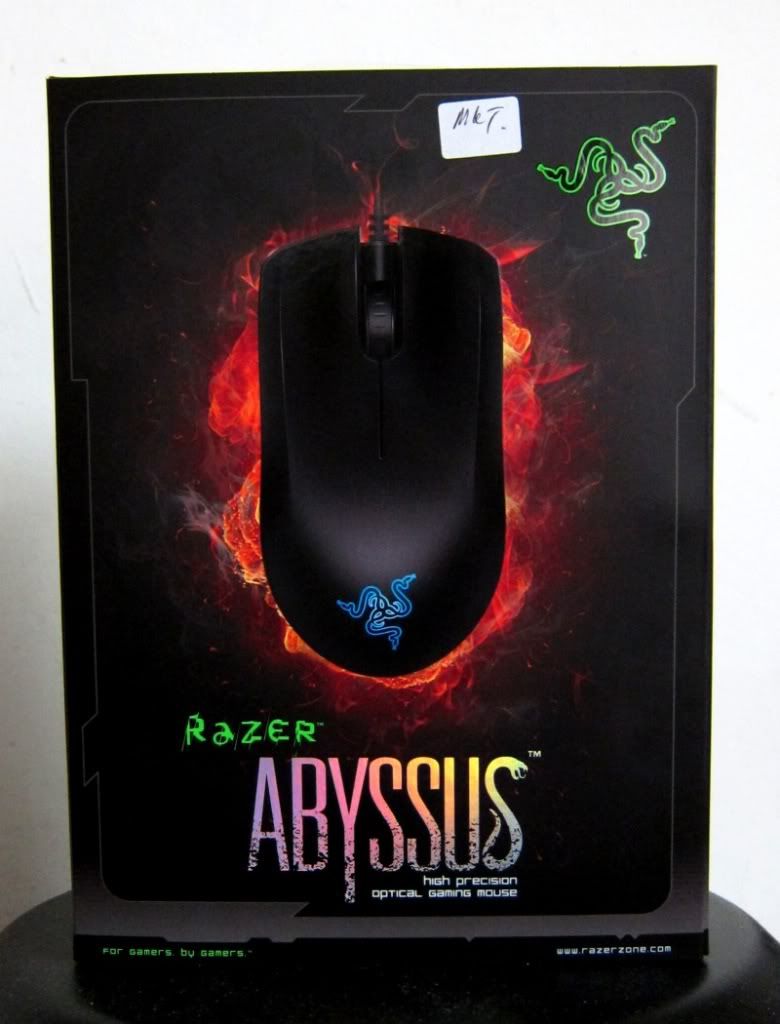 Performance wise, with its No Drift Control which basically means No Prediction, one would be hard pressed to find much faults with the sensor.
The lighter weight of the mouse also really helps to get it moving effortlessly across the mat.
At the bottom of the mouse, one would find DPI and Polling rate switches for settings of 450 / 1800 / 3500 DPI and 125 / 1000hz respectively - though it would've been nice if 800DPI and 500hz was available.
As for the perfect mousepad for it, some guys over at razerblueprints (and they're all also really liking the Abyssus which says alot) have done tests and the eXactMat seems to come out on top for having the lowest lift-off distance. Razer's latest mat, the Vespula, should pretty much offer the same results.


The Abyssus meanwhile does not come with a braided cable as one would expect, just a regular one.
The top of the mouse also glows in the usual blue that we're all familiar with by now. Looks like there's no point anymore in arguing for having Razer green or even red LEDs now.


As can be seen, the Abyssus has a slimmer profile compared to the Imperator and which makes it more suited for fingertip and claw grip users.
And that's where my only gripe with the mouse comes in - in how the side is designed - where the button and the body sides meet at an outward angle to form a little ridge.
I tend to have a tight claw grip, and that ridge tends to cut into my ring finger and sometimes my thumb due to its lower profile.
Those who grip it lighter or with fingertips should really find this mouse to their liking.


Anyway, if it's good enough to help Serious Gaming's Cypher - who switched from the DeathAdder - to improve on his already high accuracy, then imagine what it can do for you.